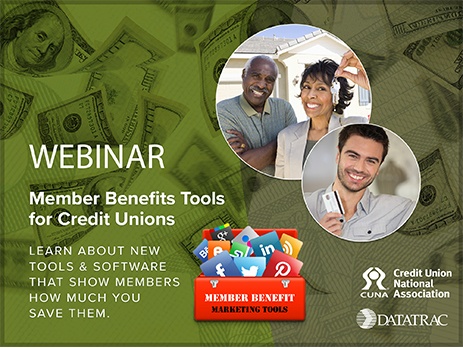 You already know that your credit union provides superior value. But how do you make sure members choose you over the competition for their next deposit or loan? How do you find new members?
Your League has a new competitive comparison tool for you called RateDex, which will will help you illustrate the financial value of credit unions to your members.
Learn from the experts! They will share practical, proven methods to use RateDex, the CUNA Membership Benefits Report and other competitive data to prove to new and existing members that you are the obvious choice for their business.
Presenters


What you will learn
Proven strategies to convince new prospects that they should become your member.
How to make existing members think of you first.
How to increase the number of qualified applications and leads you receive at a lower cost per new account.
New ways to showcase your competitive advantages.


What you receive
An in-depth whitepaper with practical and tactical solutions to showcase your competitive advantage, including five case studies using the strategies in this webinar to generate over $200 million in new deposits and loans with ROIs from 472% to 644%.
Discounted access to a Member Benefits Growth Package.


Who should attend
Marketing executives that want to achieve the greatest return on marketing investment.
Retail executives responsible for growing deposit and loan portfolios.
CFOs and financial executives interested in evaluating the ROI of using competitive data to generate new deposits and loans.